If you are interested in our auto loan, you might encounter a few questions about the car-buying process. We have developed a flow chart to help you navigate the auto purchase process with CEO financing.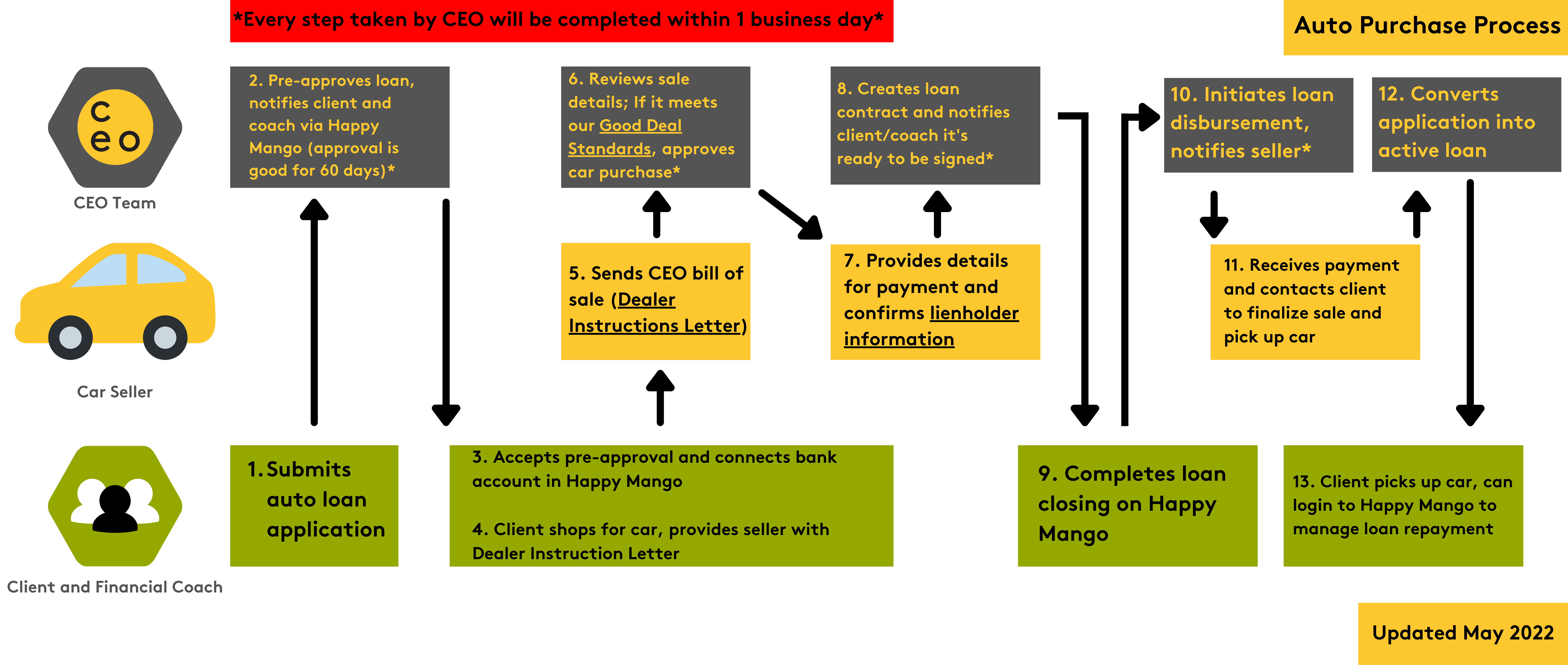 Waiting for the loan pre-approval
1. Please carefully review this article about our Auto Loan. If you have decided to proceed to apply, you will have to work with a financial counselor to submit an application to us on Happy Mango.
2. Once counselor verification is complete, the internal loan committee will review the application. During the loan underwriting, the loan committee might ask for additional documents, such as an identification card, and have questions, such as where the bank deposits came from. Please remain responsive to all email correspondences from us. If your application is complete, you will receive a loan pre-approval notice.
3. Log on to Happy Mango and accept the pre-approval offer. In this step, you can also connect your bank account for payment. This pre-approval offer is valid for 60 days. You may request a one-time 30-day pre-approval extension. If you do not accept the pre-approval within 90 days, the offer will expire, and you will need to start the application again.
4. With the pre-approval notice letter, you will also receive the Dealer's Instruction letter. You are ready to go shopping for the car. Please do not shop for a car without obtaining a loan pre-approval offer from us. We cannot expedite the loan underwriting process or guarantee your application will be approved even if you have discovered the car you want to buy.
Ready to shop for a car
5. After you have found the car you want to buy, please send the dealer's instruction letter to the dealership representative. The letter is attached to your pre-approval offer email.
If you are buying a car from a private party, please see the extra requirements in this article - Private Party Auto Sales.
6. Our loan financing team will review the car's details and confirm it meets the Good Deal Standards.
7. If approved, we will provide details for lienholder information and payment method (by ACH transfer or certified check). Please note that we do not use wire transfers or cashier's checks. All Auto Loan funds are paid directly to the car seller.
8. In the meantime, you will receive a loan approval notification from Happy Mango.
Your loan is fully approved
9. Log on to Happy Mango and sign the loan contract. If you have not connected your bank account and selected it as a payment source during step 3, you must do so now. Here is an article on how to complete this loan closing step.
10. Once the loan contract is signed and the ACH setup is complete, our finance team will initiate the loan funding. Funds sent via ACH are usually available in the seller's bank account within three (3) business days after signing the loan contract. Please note that the exact time depends on the seller's bank. The seller will receive a notification once the loan funding is initiated and when it is complete.
Congratulations on your new car
11. The seller will contact you to finalize the sale and pick up the car.
12. The application is complete and has now been converted to an active loan. Log on to Happy Mango anytime to manage your loan repayment. Contact us anytime if you have questions about your new loan.