Happy Mango provides a user-friendly platform that allows you to view and manage your loans conveniently. To access your loan information, follow these simple steps:
Visit the Happy Mango website (https://user.happymangocredit.com/#login) and log in to your account using your credentials.
Once logged in, navigate to the top right corner of the page, where you will find a drop-down menu. Click on the drop-down menu to reveal a list of options.
From the drop-down menu, select the option labeled "Loans." This selection will direct you to a page dedicated to managing your loans.
On the loans page, you will find a comprehensive list of all the loans you have closed with Happy Mango. Each loan will be displayed with key details, such as the loan amount, pay-off amount, and repayment term.

If you wish to explore the payment history and schedule for a particular loan, click on the "See More" button associated with that loan. By doing that, you can review more information about the loan.

The expanded view will present you with the loan's payment history, providing an overview of your payments and any outstanding balance. Additionally, you can access the loan's repayment schedule, which outlines the due dates and amounts for future payments.
Managing upcoming loan payment
When you complete your loan application process, you have signed up for Happy Mango Smart ACH Automatic Payments. At least five days before the loan payment due date, you will receive an automated email and text message regarding the amount, the due date, and the account used for the payment. An invoice related to the upcoming payment can be downloaded online or from the email notification. If you want to manage your payment manually, you could select one of the following options:
"SOS" button in red allows you to contact us directly to request changes in upcoming scheduled payments.

Please remember that if you want to modify an upcoming payment, you should submit the request three business days before the scheduled payment date. We cannot stop scheduled ACH payments if the transfer has been initiated.

"Pay Now" allows you to make regular monthly loan payments anytime before the due date.
"Pay Early" allows you to make a one-time unscheduled payment of $5,000 or less.
"Pay Off" allows you to pay the loan in full. Note: this is only available when the remaining loan balance is $5,000 or less. The question mark (?) icon next to Pay Off will display a note if the balance is over $5,000.

If you want to pay off the loan with a $5,000 or more balance, you can initiate a series of payments under $5,000 in the account. Alternatively, we would need the information requested on this form to coordinate payment outside the system.
The pencil icon under Automatic ACH allows you to change the connected bank account for loan payments
The download icon next to Loan Repayment Schedule lets you download a copy of your current loan schedule.
By following these steps, you can conveniently monitor and manage your loans on Happy Mango's platform, ensuring you stay informed about your payment history and upcoming obligations.
Desktop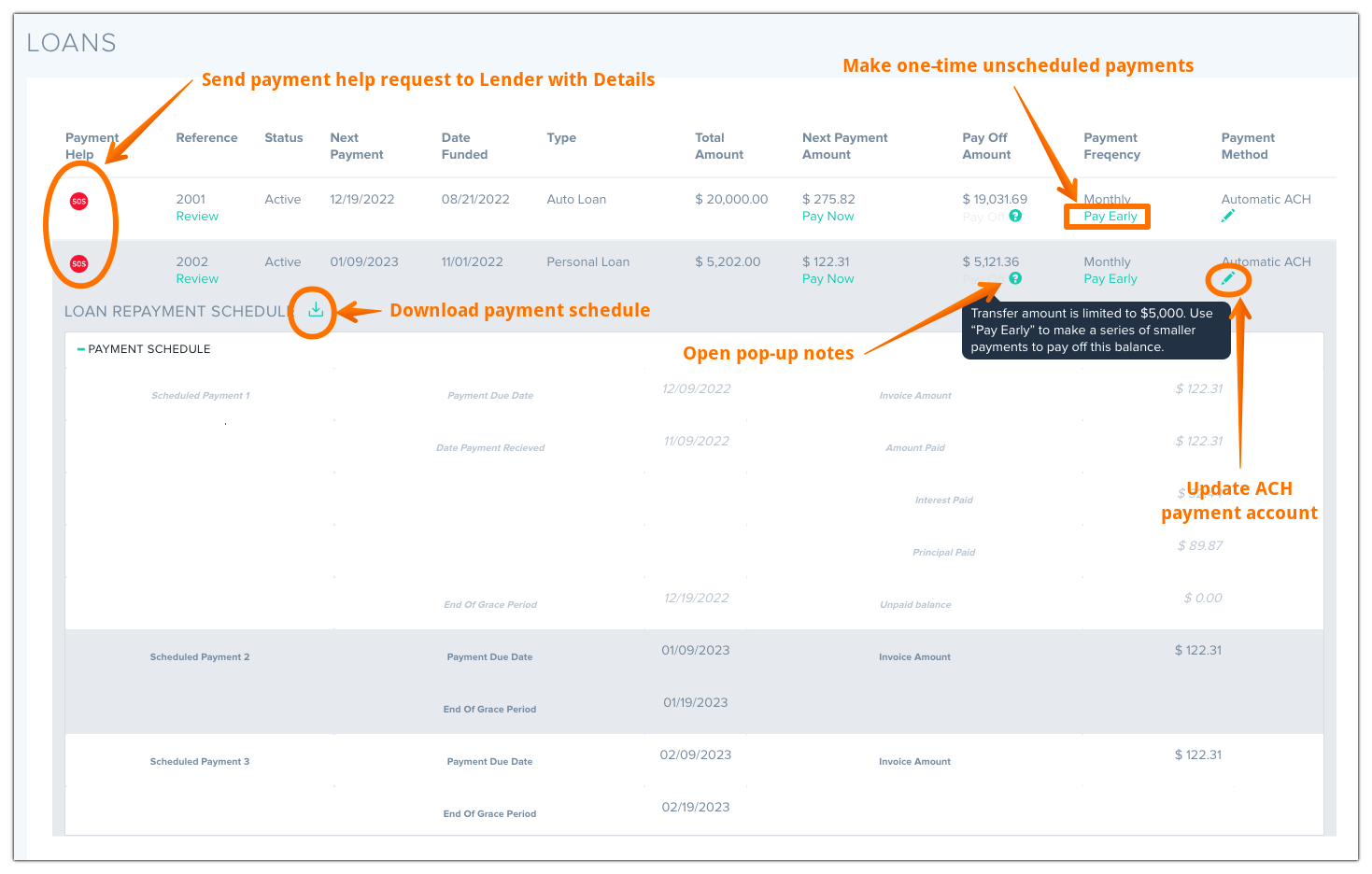 Mobile